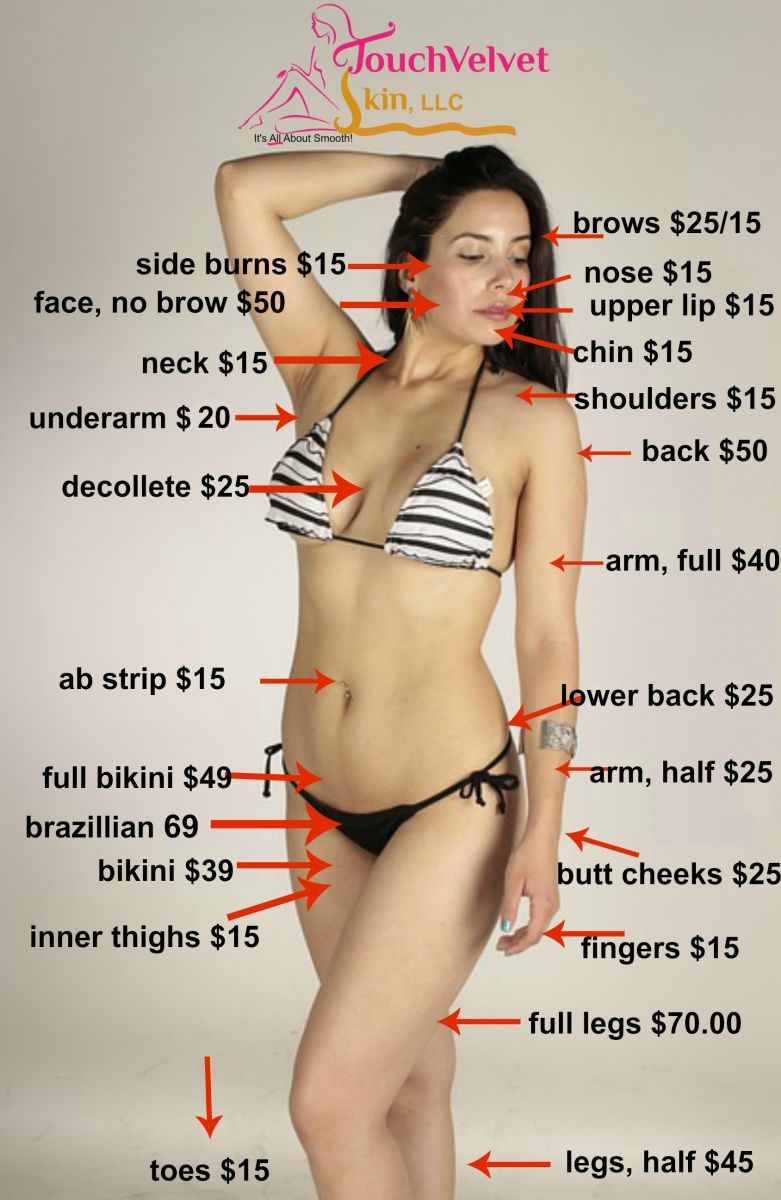 Touch Velvet Skin Spa offers advanced, all natural Sugaring Hair Removal treatment. Sugaring is an ancient Egyptian art-form of removing hair from every part of the body, except the scalp, and some beards. It has survived through the ages with very little modification.Though it is sometimes mistakenly called sugar wax, It is a natural alternative to waxing as its formulation consist of only three ingredients - sugar, water, and lemon juice (citric acid). It is gentle on the skin, does not adhere to live skin cells, and is less traumatic to the follicles as the hair is extracted in the same direction of hair growth. Touch Velvet Skin Spa specializes in the popular brazillian waxing process, utilizing the Sugaring technique. So far, all of my hair-removing clients have converted to Sugaring as they find the application process to be more comfortable and non-irritating.
Here are some quick notes, but you can find more information on Frequently Asked Questions.
Important Notes:
* For 1st time hair removal, or if it has been 6 weeks or more, hair must be trimmed to at least 1/4 of an inch, about the length of a rice grain (does not have to be exact). An extra charge of $10.00 is applied if this is done at at the Spa.If you are not confident about how long it should be, please have it done at the spa. Short, shaved hairs may not come out completely, or may require rescheduling.
* It is also beneficial if you start the process of gently exfoliating the skin with a towel or exfoliation glove two weeks prior, and stop the day before the treatment. Moisturize the skin after exfoliation.
* It is highly recommended that you hydrate well in advance of the procedure as this acts as a great catalyst for easier hair removal.
* Sugaring is considered safe for everyone, including pregnant people, and those with sensitive skin.
Because Sugaring is an advanced, specialized service, it is normally priced higher than waxing services. You will find that my prices are very reasonably competitive. Initially, I was going to offer both Sugaring and Waxing, but since not one of my clients has requested it after trying Sugaring, I no longer offer waxing, except for nose hair removal. I specialize in Sugaring Hair removal for the whole body.
Treatments that are $15.00, e.g. chin, nose, upper lip are add on services, and are not scheduled appointments, except for members.
Male Sugaring or male body waxing is available.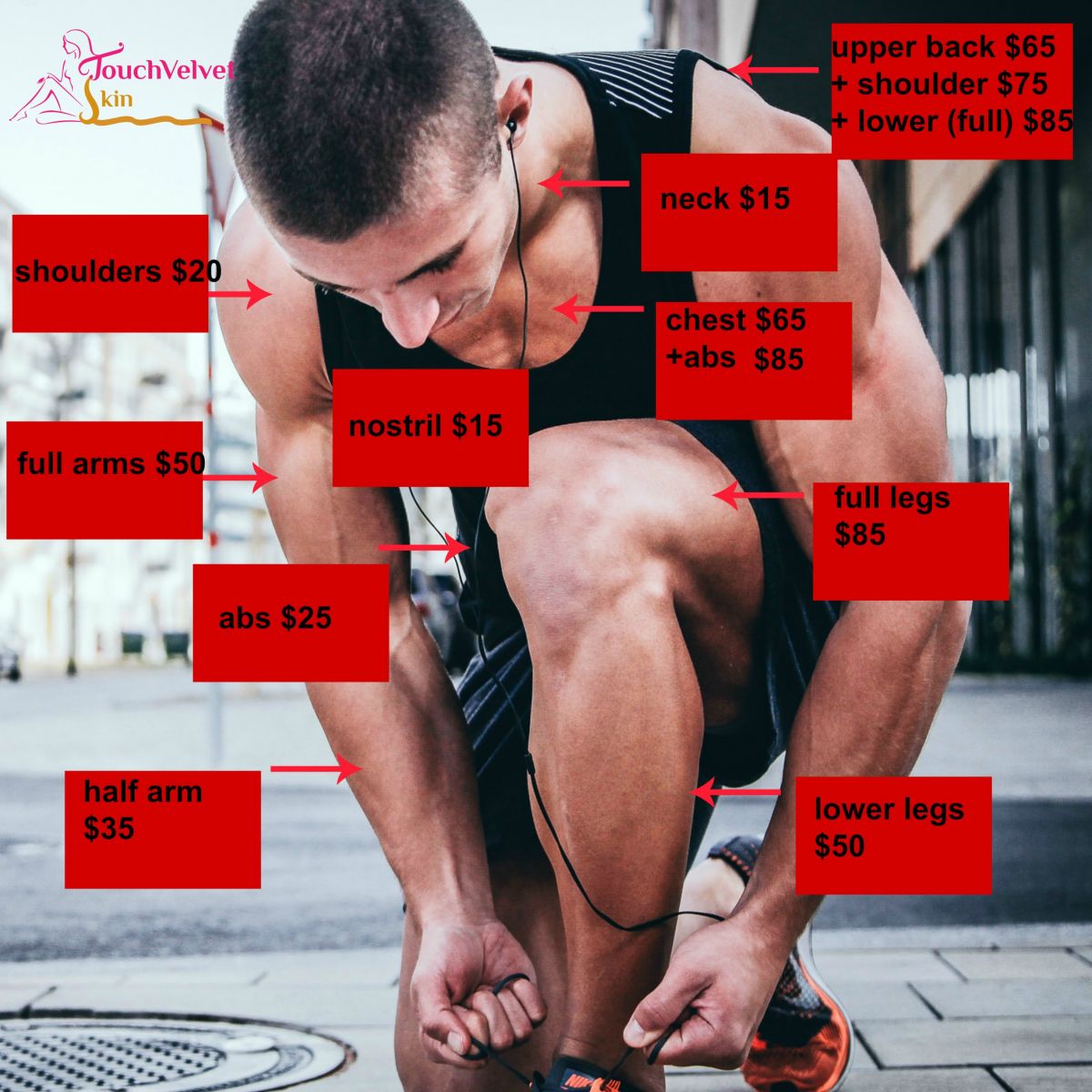 There are two different prices:
1. Regular
2. Sweet Membership.
I highly recommend the Sweet Membership. It is for clients who want to be as hair-free as possible, as consistency leads to less hair growth eventually, and the process is more comfortable.
Simple & Sweet Membership Requirements
1. One time non-refundable membership fee.
2. Pre-Schedule appointment in advance not to exceed 4 weeks past membership start date(no exceptions). This is especially applicable to brazillian, bikini, and leg services. Brows, upper lip, chin, neck and underarms may be 2-3 weeks but before the 4 week mark. No fee required after a 1 month break (Sweet!). However, Client will pay a discounted price (not Regular price, More Sweet!) for services before resuming the regular 4-week Sweet Membership discounted price again.***
3. If break is 2 months or more, regular price will be initially applied.
3. May be required to pay for pre-scheduled appointment in full (at discretion of Provider)
4. Depending on the area, $3.00-$5.00 is added to the service that is past 4 weeks. At 6 weeks it is $59.00
5. Give advance notice if service is not needed in a particular month (4 week period).
Membership with Benefits! Thank you for signing up!
* Important note: you must give a minimum of 12 hours, preferably 24 hours notice of cancellation or you will incur a $25.00 fee. This also applies to series packages.
*All Prices subject to change without notice.
***If break exceeds two months, Regular price will be initially applied.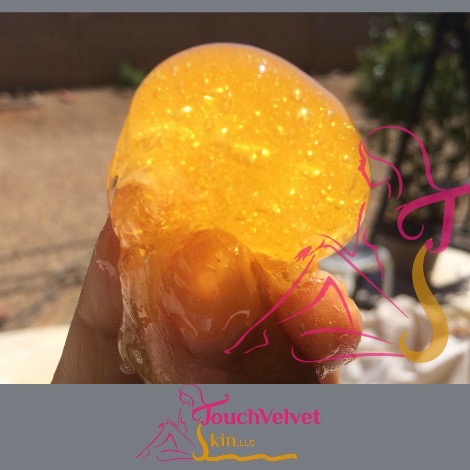 PRICES SHOWN ON MODEL ARE REGULAR RATES. ASK ABOUT THE SWEET MEMBERSHIP program!